Form in London in 1962, The Rolling Stones are one of the longest running bands in musical history, continuing to tour today. The band went through a number of line-ups early in their career,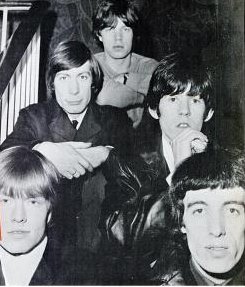 with their first stable line-up consisting of Mick Jagger on lead vocals, Brian Jones on guitar, Keith Richards on guitar, Bill Wyman on bass, and Charlie Watts on drums. Ian Stewart originally played piano for the band but was removed from their permanent line-up in 1963. Jagger and Richards assumed leadership roles within the band after the recruitment on their manager Andrew Loog Oldham.
The Rolling Stone's musical style helped them in their role as being at the forefront of the 'British Invasion' into the American music market, with the band achieving huge popularity in the 1960s in both Britain and America, helping to become of the most influential bands during the counterculture movements in the 1960s. The groups sound was, and remains, rooted in blues to form their classic rock sound. Originally the band found great success in performing cover songs before transitioning to performing their own material, which they now almost exclus
ively play. Their songs 'Satisfaction' and 'Paint It Black' became international hits after their respective releases.
The band's musical style evolved during the 1960s psychedelic era with their music taking on a more experimental edge, particularly in relation to recording techniques that were fast becoming popular at the time, although the band did eventually return to their classic rock style. This is evident to anyone listening to their albums in chronological order, although almost all albums have been well-received commercially and amongst fans.
The Rolling Stones have continued to release new music since their formation, although the frequency began to slow down during the late 1970s, with album releases becoming spaced out further and further. Alongside their studio releases, the band have continued to tour the world, becoming one of the most successful bands of all time. A number of musical critics have stated that the band's ability to continue producing music rooted in classical rock and blues has helped their longevity, whereas a number of bands that have attempted to capitalise on passing trends have not been able to last anywhere near as long as The Rolling Stones have.